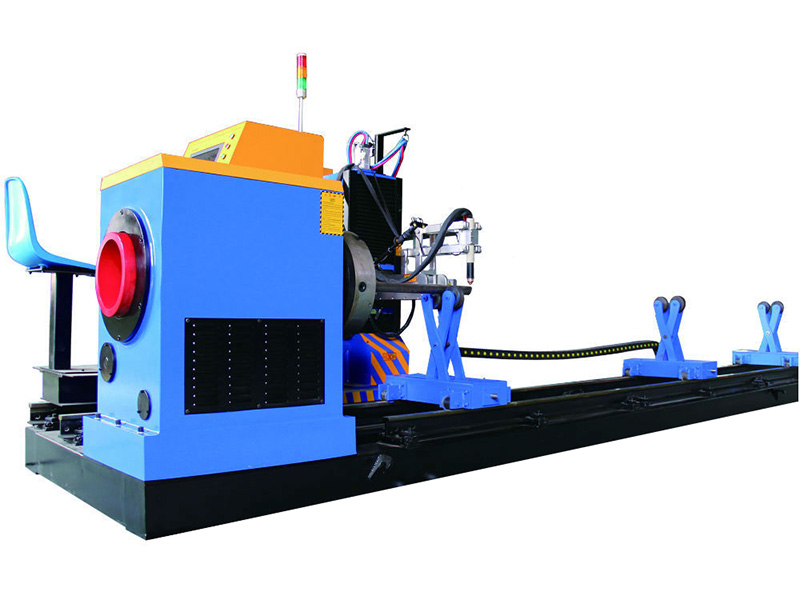 1.Description
---
Laserový řezací stroj integrates optical, mechanical and electrical technology into one machine, which adopts laser technology, computer control technology and high-performance CNC (computer numerical control) laser power system. Laser Cutting Machine is capable of processing all kinds of sheet metal with high speed and efficiency.
Laserový řezací stroj ACCURL3015IIIWJAT-2000 is applied in both metallic sheet and pipes cutting. The maximum size of sheet it can cut is that 3000mm×1500mm, the maximum size of pipes is that thickness 3mm, length 6000mm, round pipe Ф25-Ф160mm, square pipe 25mmx25mm-100mmx100mm (diagonal 30mm-160mm). The products will have smooth edge with high quality surface finish, small kerf width and little heat effect. The machine is especially suitable for cutting metal sheet or pipe.
2.Components of Equipment
---
1)Laser
IPG-2000W Fiber Laser
(1)Laser output power 2000W
(2)Laser wavelength 1070nm
(3)Output energy modulating 10%-100%
(4)Input Power <8KW
(5)Working Temperature 15-35ºC
2)Fiber-optical Laser Cutting Head
The Laser cutting head adopts German technology, equipped with QBH fiber output connector, special optical lens, sealed accurate focus adjusting method, and fast capacity transducer with minimum cutting gap 0.2mm, which could increase cutting speed and reduce gas consumption.
3)Machine tool
The machine adopts gantry structure, beam and bed are in a single process with high precision, good rigidity, smooth operation.
Machine base: The base uses the high quality welded tube and frame structure, through professional welding, secondary aging treatment, large precise gantry milling machine, precision machining, these designs and processing methods ensure the excellent shock resistance, high rigidity and stability of the machine.
Deslagging system: The blanking collector is arranged at the lower part of the bed, which can remove waste and collect small parts during the cutting.
Dust removal system: The work platform uses the dust collection design to remove the dust and exhaust gas.
Automatic exchange worktables: Two automatic worktables can achieve a smooth and rapid exchanging, which shorten loading and unloading time, enhance cutting efficiency and reduce labor intensity.
Encloser: Fully enclosed cover can maximally protect personal safety and reduce dust pollution.
4)Transmission System
The machine tool adopts gantry double driving structure and high damping machine tool bed, with good rigidity which can suffer high speed and acceleration, Imported AC servo system and driver system, imported gear and rack transmission, linear guide track for guiding, to ensure the high speed, high precision and high reliability of the machine.
5)Control System
Fiber laser cutting system includes laser cutting process, normal stock layout function and laser processing control. It mainly has drawing process, parameters setting, user-defined cutting process edit, stock layout, route planning, simulation and cutting control. The cutting power could be adjusted with the cutting speed. The individual pull in and pull out speed could be set. It also has material process library, which could save all the process parameters for the same material.
6)Red Light Indicating System
The coaxial red light is used as the indicator to make it simple to adjust optical system and more accurate to posit working point.
7)Cooling System
The water cooling system is equipped and the temperature could be indicated. The water cooling system would start working automatically when the temperature is higher than the preset value and stop working automatically when the temperature is below the preset value.
8)Exhaust Fan
The centrifugal blower remove the dust to maintain a good working environment and reduce the harm to personnel safety and equipment.
9)Rotary Clamp
Rotary clamp can hold round pipe Ф25mm-Ф160mm, square pipe 25mmx25mm-100mmx 100mm (diagonal 30mm-160mm), with thickness 3mm, length 6000mm. Material supporting device can be kept stable for a long time to work.
Laserový výstupní výkon

2000w

Vlnová délka laseru

1070 nm

Laser medium

Glass fiber with rate-earth element

Laser beam quality

<0,373 mrad

Min beam width

≤0,125 mm

Max range for X axis

3000 mm

Max range for Y axis

1500 mm

Max range for Z axis

250mm

Axial accuracy

≤ ± 0,05 mm / m

Repeat accuracy

≤ ± 0,03 mm / m

Max size for cutting (XY axis)

3000 mm x 1500 mm

Max thickness of cutting carbon steel

16mm (Optimum thickness 0.5--12mm)

Max thickness of cutting Stainless Steel

8mm (Optimum thickness 0.5--7mm)

Max size of cutting metal pipes

round pipe Ф160mm

square pipe 100mmx100mm (diagonal 30mm-160mm)

thickness 3mm, length 6000mm

Zdroj napájení

380 V / 50 Hz
---
1. Vynikající kvalita světelného paprsku: malá zaostřovací plocha, jemná linie řezu, vysoká pracovní účinnost, nejlepší kvalita zpracování.
2. Vysoká řezná rychlost: 2krát laserovým řezacím strojem co2 se stejným výkonem.
3. Vysoká stabilita: osvojte si světově nejvýznamnější dovezenou vláknovou laserovou omáčku se stabilním výkonem, životnost klíčových částí by mohla být 100 000 hodin.
4. Vysoká účinnost fotoelektrické přeměny: vlákno laserový řezací stroj je třikrát laserovým řezacím strojem CO2, energetická účinnost a ochrana životního prostředí.
5. Nízké náklady na využití: spotřeba energie řezacího stroje s vláknovým laserem je pouze 20-30% laserového řezacího stroje s CO2 při stejné energii.
6. Nízké náklady na údržbu: bez pracovního plynu pro laserový zdroj; bez odrazné čočky pro přenos vláken.
7. Pohodlný provoz: není třeba upravovat optickou cestu optickým přenosem.
8. Silné měkké optické efekty: kompaktní objem a struktura, snadno ovladatelná flexibilita.
9. Přijměte portálovou konstrukci Gantry s dvojitou jízdou, vysoce tlumící lože obráběcího stroje pro vyšší rychlost a zrychlení.
10.Tento model přijímá dovezené ovladače střídavého servopohonu a dovážené přenosové soustavy, pohybující se struktura obráběcího stroje přijímá dovážené převody ozubených kol a stojanů, lineární vodicí kolejnice pro vedení, zajišťující vysokou rychlost, vysokou přesnost a vysokou spolehlivost zařízení.
11. Stojan a vedení zaujmou plně uzavřené ochranné zařízení, které zabraňuje tření bez oleje a znečištění prachem, zvyšuje životnost převodových dílů a zajišťuje přesnost pohybu obráběcího stroje.
12. Profesionální laserový řezací stroj cnc řídící systém, ovládání počítače pro přesné řezání a pohodlné ovládání.
Utility requirement
---
The user shall provide good environment for the equipment such as level floor for equipment placement without strong motion, clean and dry environment without dust, 5-350C for equipment working. Working power supply should be provided: three-phrase five-line power 380V/50HZ. The user shall prepare air compressor (more than 0.6 square meters per minute for air displacement, more than 1.0Mpa for air pressure), hydrogen, nitrogen and distilled water for cooling use (about 70L).
kompaktní laserový řezací stroj
,
řezací stroj s kovovými trubkami
,
řezací stroj z nerezové oceli